Class II Biohazard Safety Cabinet
Esco AC2 safety cabinet for performing biological work in a sterile environment. It has a filtered laminar air flow and a UV lighting system for sterilization.

Stereo Microscope
The olympus SZX16 stereomicroscope is used for in vitro observation of microscale features.

Fluorescence and UV light microscope
The CKX41 Olympus Fluorescence Microscope is used for observation of in vitro cell cultures.  It is equipped with a mercury burner for ultraviolet light.

CO2 Incubator
The lab is equipped with a Galaxy model R+ CO2 (0.2 to 20% CO2) incubator with variable oxygen control (1-19%) and high temperature and UV decontamination units for in vitrocell culture. Temperature, alarms, and CO2, O2 gas levels can be controlled, monitored, and logged via a programmable LCD display. The 170 Litre seamless chamber features HEPA filtration of gas supply inlets and active humidification.


Microplate Reader
The group's FluoStar Optima microplate reader is equipped with fluorescence intensity and UV/Vis absorbance detectors covering a spectral range of 240-900 nm. The reader can accommodate a range of multiwell plates and biological assays.


Oven
The memmert steriliser oven is used for sterilisation using dry heat.

High speed centrifuge
The Sigma 3K30 Centrifuge is a high-speed, bench-top model able to reach speeds up to 30,000 RPM.  It is equipped with controls for temperature and time.

Autoclave
The C3 Advance Autoclave is used for steam sterilisation of glassware and samples.

DC Electromagnet
DC Electromagnet (HIRST Magnetics Instruments Limited) with an adjustable air gap of 65 mm >170 mm. The electromagnet sustains linear ramped magnetic fields varying between 0 and +1.5 Tesla with a ramp rate of 10-15 seconds.

CO2 mini-incubator
Electrically heated CO2 mini-incubator system (Okolab) with a ± 0.2 °C specimen temperature accuracy.
Single-Axis Laser Scanning Extensometer
50 mm Single Axis Intelligent Gauge Head (ACCUSCAN 1000, Beta Lasermike) with a resolution of about ±1 µm.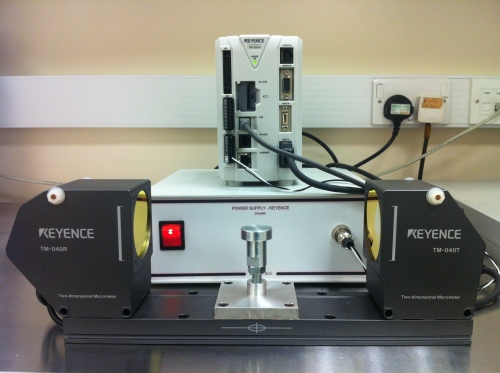 Dual-Axis Laser Micrometer
40 mm diameter circular head Dual Axis Laser Micrometer (TM-040 Keyence) with a resolution of ±3 µm.